Main content starts here, tab to start navigating
Our Story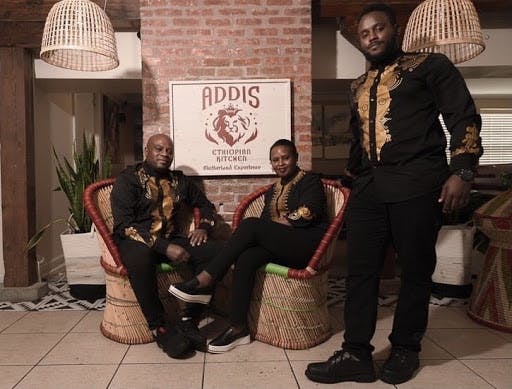 Addis Ethiopian Restaurant is a new gem in the sea of amazing New Orleans restaurants. Not only is it Family-Owned and Black-Owned, but it is also one of the only two Ethiopian Restaurants in the entire state of Louisiana. As a part of Dr. Alemayehu's vision for a greater New Orleans, Addis NOLA was created as a way to connect New Orleans and the diaspora to the land of origin, Ethiopia. The name "Addis" comes from the capital city of Ethiopia, Addis Ababa, and translates to "New Flower". Connecting these two cities together, Addis Ababa and NOLA, you get Addis NOLA, a New NOLA. The shared aspect of their names is only one of the many things that connect Addis and NOLA, two cities thousands of miles apart yet so close. Believe it or not, Second lines in Ethiopia are a common form of celebration for holidays like Timkat, and above all else, the immense love for food and culture is shared as if they had planned it together at the same dinner table. Dr. Alemayehu and her family's story starts in Addis Ababa and continues through Addis NOLA.
Follow "Our Story" Blog and our Instagram (@addisnola) for more fascinating details and insight on Addis NOLA, its unique yet connected cuisine and just some things that you never knew you needed to know!
The Mission
When she opened her Ethiopian restaurant Addis NOLA last spring, Biruk Alemayehu said that eating the food of her homeland means "not only having a relationship with it, but also deeping the relationship between those you are dining with." You eat with your hands, tearing off pieces of injera bread to be used as edible utensils, making a connection with the food, and typically several dishes are served on the same plate so you are exercising a tradition built on sharing, trust, and love. That is what Addis NOLA is bringing to the heart of NOLA, East African cuisine, culture, and community!
Our Food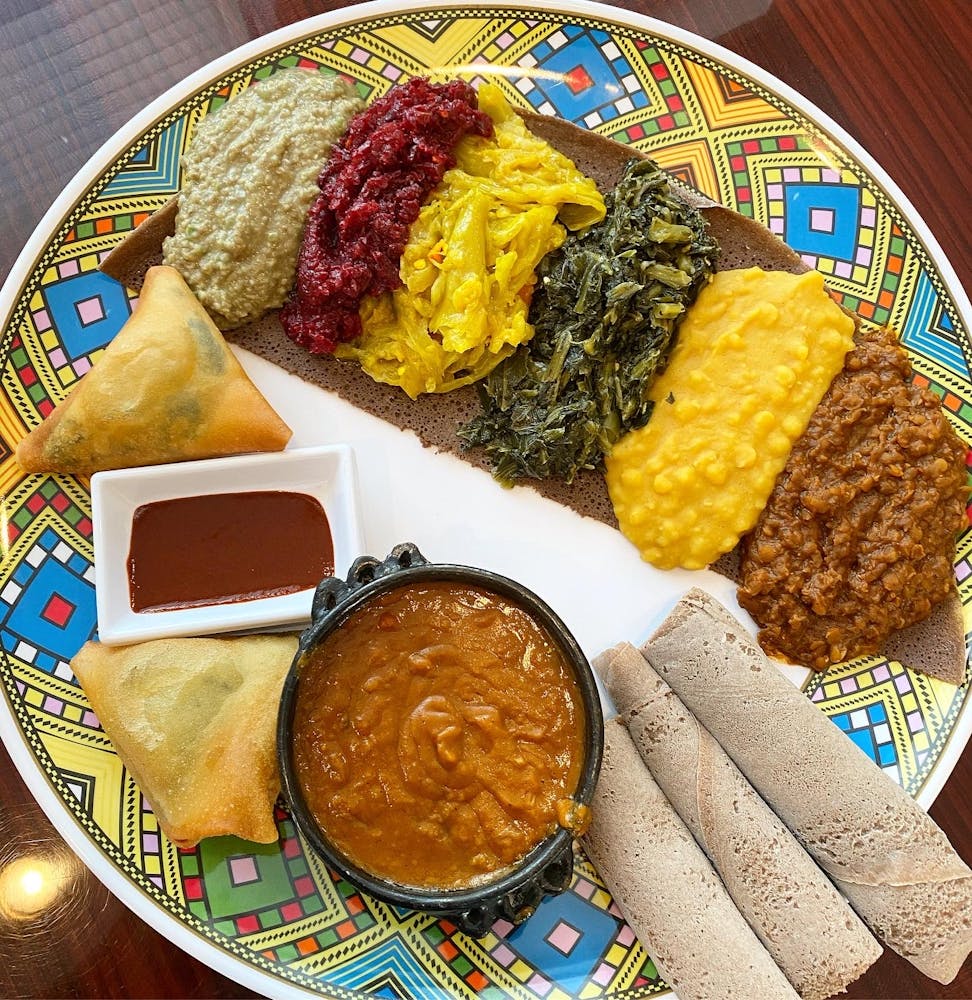 Addis NOLA serves a wide array of options from vegetarian to lamb. To give you an idea of what to look out for and what's hot here is a list of some of Chef's Favorites!
1. Veggie Combo
One of the most wholesome and healthy options on the menu, the all-vegan, veggie combo gives diners a little taste of everything with red lentils, yellow split peas, collard greens, cabbage with carrots, green lentils, and potatoes.

2. Doro Wot
One of the true crown jewels of Ethiopian cuisine. This is a full-flavored wholesome dish that makes for a truly special meal. White breast meat chicken slowly simmered with caramelized onions in a blend of robust spices and a boiled egg just for fun!

3. Special Kitfo or Addis Special Appetizer
An Ethiopian-style steak tartare dish to behold before it begone. A creative, elegant, and truly amazing dish that marinates prime ground beef with herbal butter mixed with Ethiopian spices, collard greens, and house-made cheese.

4. Rib-eye Tibs
Rich and juicy cubes of beef sauteed with onions, tomatoes, jalapeños, and Ethiopian herbal butter.

5. Ethiopian coffee and Ethiopian Spiced tea
Coffee for dessert might sound strange but hear me out. Kaffa, Ethiopia is the origin of coffee, making our coffee ceremony the first organized ceremony of enjoying coffee in groups.
Hot Tea infused with cinnamon, ginger, and cardamom if you've never had it is something worth making a trip to Addis NOLA for!
Forget your fork!
Injera, the edible utensil in our cuisine is a sourdough-risen flatbread with a slightly spongy texture, originating from the Horn of Africa and a staple in Ethiopian cuisine. Traditionally made out of teff flour, it is 100% Gluten-Free, one of the healthiest kinds of bread to eat, and is made fresh every day at Addis NOLA!